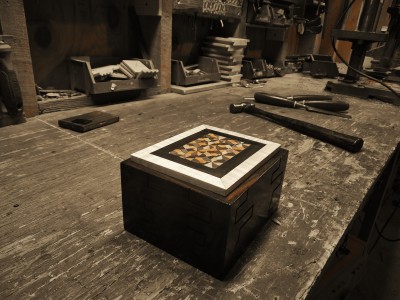 Recent update: The Yosegi Pattern puzzle box has sold out!
The Yosegi Pattern Box is my 5th commercial puzzlebox design and what I consider to be the best of my work so far. When I was designing the puzzle my goal was to create a beautiful box and secondly to incorporate a unique puzzle aspect that I have not seen anywhere before.
As it turns out the box is more tricky to open for the average individual than I first expected but as far as puzzleboxes go its not "difficult". Finding the first move seems impossible for some; its very unconventional, but you can definitely tell there is quite a lot going on inside this box. I made sure to leave the inside uncovered so once you open the box you can see the interesting mechanism that keep the box safely locked.
I'm super excited about this design and very pleased with the finished product! Each new puzzlebox is a challenge to engineer and this little box was no exception. I've signed and numbered each box; #1-38. I appreciate all the support and encouragement I've from all my followers on facebook during the building process of these boxes. I'd love to hear any comments or questions you have regarding this design or my future projects.
-Jesse